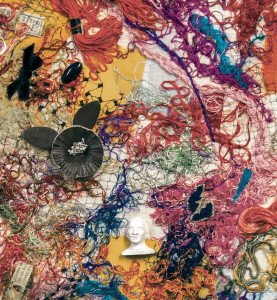 9 - 24 September 2017
The exhibition "SUTUR – IHOPASYTT"
10 artists embroider and interpret the time with stitches …
Exciting, significant contemporary textile art.
Different ways to interpret with needle and thread – joined together, embroidered and recycled. Strong artistic self-contained works. With needle and thread, these simple original tools, are created, assembled in infinite many ways in expression and form. From small, tightly sifted intense images, narrative images depicting the time we live in, to larger works with spatial designs and claims.
In hosting this exhibition in our outstanding exhibition space, we at Ålgården will be demonstrating the breadth of our creativity as part of the European Crossover festival. We will be broadening the context of our creative hub by participating in social networks, finding greater opportunities to widen our field of vision and further develop our International contacts. During the major European conference we will present an exciting and newly produced exhibition at Ålgården in our fantastic exhibition hall.
Parallel in time – at Documenta 14 in Kassel 2017 many of the works examine themes myths, our origins as humans or power. Britta Marakatt-Labba, as the only Swedish representative, has invited international attention with her twenty four meter long embroidered picture story about Sami history and contemporary life. In her own words "The embroidery has got standing room in the art world; I am joiking, humming and narrate a story with needle and thread", she says. Simultaniosly at Syntagma square in Athens there is another part of Documenta 14, Ibrahim Mahama's amazing performance "Check Point Prostygika 1934-2034" where about 200 men and women sitting in the square sewing jute coal bags together into a enormous cloth that will fill the entire square. Stitching as a creative tool seems more relevant than ever in interpreting the present day.
When inviting artists to take part in the Ålgården exhibition we asked "Why stitches, needle and thread in your work as an artist 2017?"
We received ten different answers and many exciting, intricate, beautiful, crazy and amazing narratives.