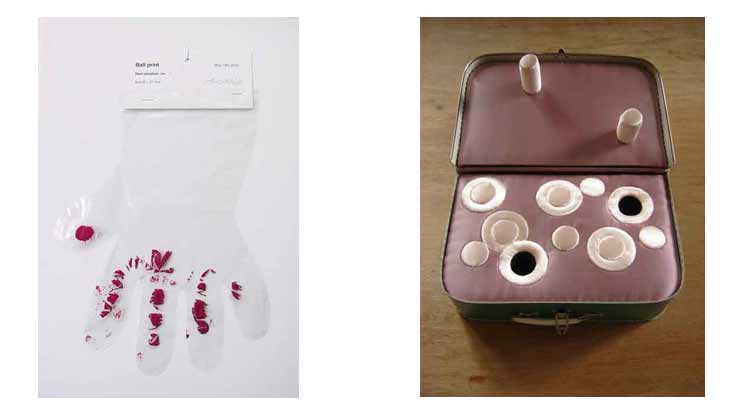 14 November - 30 November 2003
Klavs Weiss
Klavs Weiss takes interest in the printmaking process, where both the printed result and the original used are important – i.e. a reminder of cause and effect. His work often consists of both the object and the print made from it. You can call it a kind of "printmaking research", often carried by a conceptual idea, where the works exceeds the traditional two dimensional art of printmaking  and becomes objects or sculptures. In a series of work from 2001 Klavs Weiss shows a collection of boxes placed on the floor, each containing a geometrical common form and the objective print on paper made from these forms. One geometrical common form not included is the ball. To make an objective print from a ball is not possible.
The ball however has been the inspiration in several other documentet prints, among others an series of "ball-print" work from 2001. In the boot of his car Klavs placed a wooden frame and a paper in the bottom of it. An iron ball smeared with printing ink were put on the paper. After 2 kilometers of driving he stoped, changed paper and inked the ball again. After 52 kilometers there were 26 papers, each showing a graphic documentation of the trip, the road and and the cars movements for every single distance.
In Algarden Klavs Weiss showes another example of his work with the ball: "Ball-print on throw away gloves", a series of plastic gloves, which he wore while he grabed an inked ball thereby creating a print from both the ball and his hand. Here 6 series each in a primary colour are exhibited.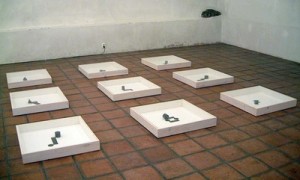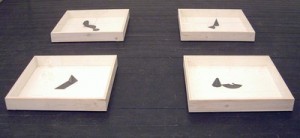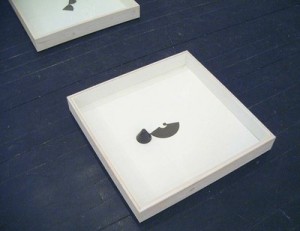 Karen Havskov Jensen
Evidently the sculptor KHJ is inspired by totally concrete harmonic physically micro and macro landscapes, which moves between microscopic enlargements  of scientific character to grand views, for exampel a photo of the cultivated land taken from a plane. Characteristic for KHJs interpretation of the lanscape is that finally it appears like abstractions and fragments of that. This is the base of her real, deep emotional and symbolic charged message. In addition to the pure estetic values of the "landscapes", we are confronted by the question of cause and context – like the blood circulates through the human body in a complex system of veins, and so to say keep us alive, the water circulates in nature – eternal, but delicate ciculations that point out a succession of dependent circumstances.
In this exhibition KHJ presents a "travel-kit" consisting of a series of small green childrens trunks titled "From my collection of weapons 1-7". When a trunk is opened, there are – except for the difference in deapth of lid and bottom – two identical spaces, between which KHJ invites us to a dialogue – direct causes of context or connections similar to a circulation. However it's not an ordinary collection of weapons, regardless we talk about ways of storaging or contents, the childrens trunks in a way indicates more of a kind of fragility, of the child and/or the imagination.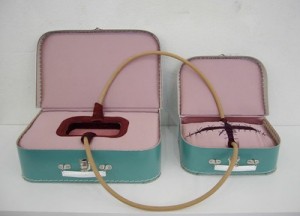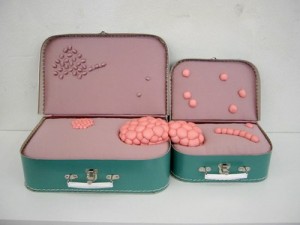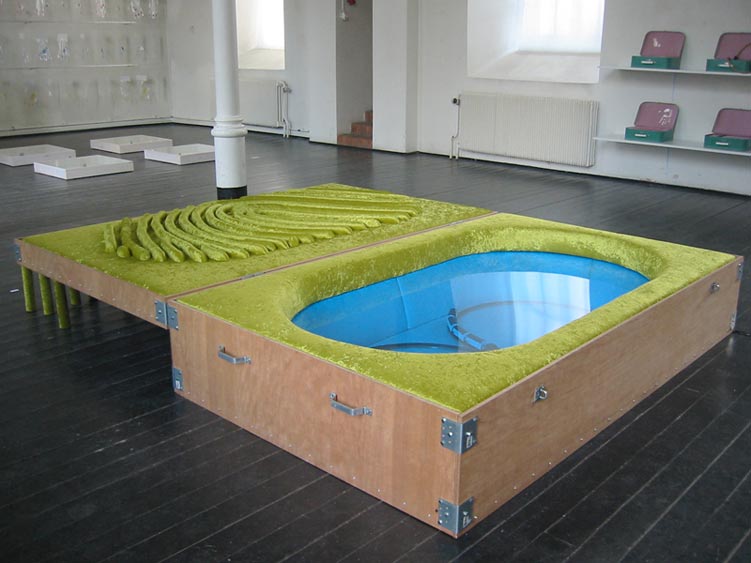 Klavs Weiss project "Ålgården tree"
During his stay in autumn 2003 at Ålgården Klavs made this tree project. He was cutting down a maple tree and sawed it into more than 1000 thin pieces and keeping a record of where on the tree the different pieces came. Then he printed all the pieces together with a drawing of the tree.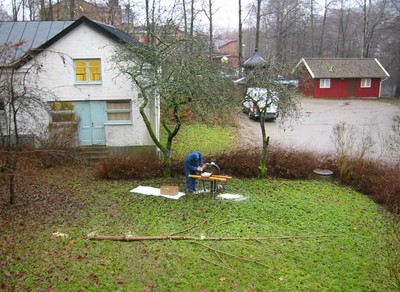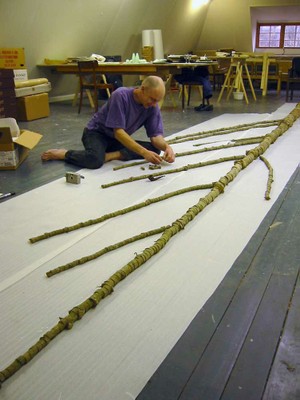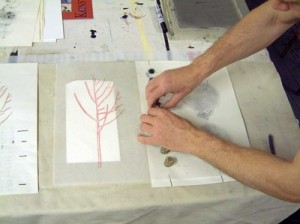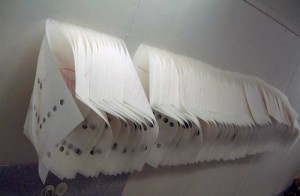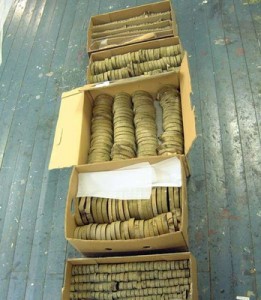 Klavs Weiss and Karen Havskov Jensen (Denmark): Prints and Sculptures