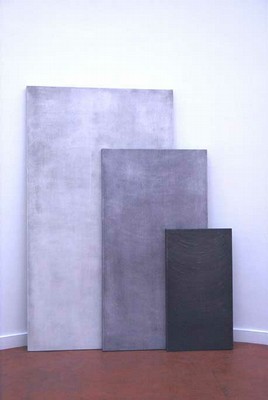 14 October - 30 October 2005
My current work is based on a personal journey over the last 10 years exploring dualities; density/transparency, monochrome/colour, movement/stillness and is a search towards resolving their inherent polarities.  I attempt this resolution through juxtapositions of visual elements.
My paintings are not representational, not abstraction, not even about the nature of the material itself.  These works are the result of a process of layering paint on to supported canvas and then literally, mechanically grinding it away again like glacial striations on a rock.  The works are simply the evidence of this process, yet they address our human need to 'equate' this evidence with our experience of the natural world.  They have delicate surfaces in layers.  They appear empty but underlying are subtle densities and forms.
My aim is to create works that will have presence but at the same time transform space through their qualities of stillness, sensual lightness and shadow.
Christine Goodman (Scotland): Extent of turning