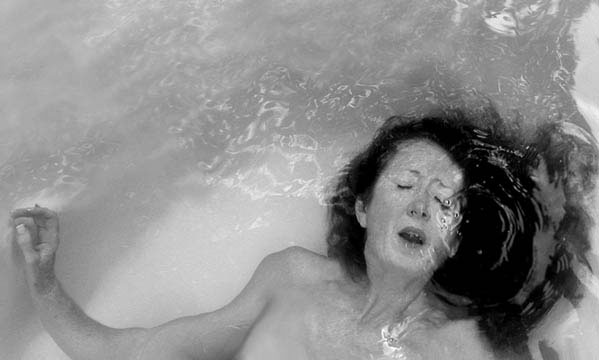 10 October - 26 October 2008
BODY OF WATER / statement by Derek Michael Besant
I have always been fascinated by the fact that our bodies are made up of 98% water… therefore we have intuitive but unexplained responses and relationships to water as an element.
Our tears contain the same salt content asoceans and seas.   Dehydration or water retention effects our physical survival.  We are at the same time magnetically drawn to the water but also fear it, to some degree.  I decided to investigate the theme by immersing several subjects into water circumstances.  Some floated, some submerged, others appeared to dissolve or become sharply in focus depending on the light.  Each figure took on some conditions dictated by the water conditions, and relected that emotionally as calm, distress, scattered or concentrated.
I photographed my subjects in a wide range of water experiences, from showers, bath tubs and pools to lakes, oceans and rivers.  Some of the situations were calm and relatively straight forward in gathering the resource photos ; while other situations were difficult, dangerous and uncomfortable scenarios to put one's self into.  But I was able to gathewr enough photo resources over several years to build an archive to work from. I put the photos away for years before I looked at them to work with.  The distance of time.
The images are reconstructed from several photographs of each subject.  I complicated the read of each final image by introducing numerical flotsam that floats as visual debris with each person's image.  These numbers were taken from another gathered archive of my studio practice, from the cancellation marks, stamped dates and postal codes taken from the packaging of received mail.  These notations of interference are like touchstones from my own personal time and experience, integrated into the dissolving portraits of my subjects.
Although I am traditionally trained as an artist, I work with advanced technologies more and more to achieve the final works I produce as museum exhibitions.  These particular works are adaptations of thermal ink technologies into fabric scrims that hang from magnetic mounts like floating veils.  They move slightly with air movements, allowing another reference to how water surface continually changes and collects itself again as a surface.
The soundtrack that accompanies the exhibition installation is a collaboration with music composer Paul Connolly.  I gathered the sound sources from a Canadian mountain lake and the waters beneath several bridges in Venice, Italy.  The voice is Isobella Couperthwaite Kreizel reading definitions of the word « water » from the Oxford Dictionary.  Mixed together and recomposed they create an eerie accompaniment to the images that reaffirms the danger that always lurks silently in water.
Works from the exhibition were showcased in the Metropolitan Museum of Photography in Tokyo, Japan 2005 ; and Siggraph Conference on Computer Imaging + Interactive Technologies in Los Angeles, USA in 2004.
Body Of Water opened at The Contemporary Visual Art Centre Vestjylland in Bøvlingbjerg, Denmark and The Vyhod Cultural Media-Centre in Petrozavodsk, Russia in 2006.  In 2007 the exhibition opened at The Akademija Art + Research Centre Belgrade, Serbia / The Marko Gregoric Cultural Center in Petrovac and Podgorica Cultural Center, Montenegro / The City Art Museum Skopje, Macedonia / Zavinjni Musej in Hercig-Novi.  It will tour in 2008 at The Ålgården Gallery in Borås, Sweden.
Derek Besant (Canada):Body of water