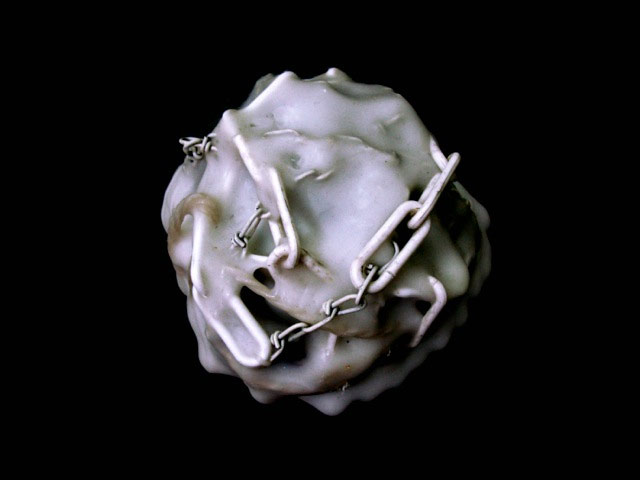 11 - 27 January 2013

Mounted in bright wooden frames, white rectangular sheets of paper are lined up side by side. At first glance there´s only a white dumb surface. Slowly we discern something familiar in the flat, seemingly plain square. A letter, a shape. An unwelcome piece of color amids the white. The soft pulp seems to transform into a piece of hard concrete. A gray square with misplaced syllables in. A failed message, in which letters are wrung apart and smeared out into a provisional image.
In the work Hundreds of Letters there are only scraps left from the original material. Thereby the red thread that bound the work to it´s history has been lost.
The red thread leads us through countless contexts every day. If you dont keep up with all protracted arguments you might find your self empty-handed in the end.
In the exhibition Silent Speakers at Galleri Ålgården the red thread has been replaced by a tangled relative that are even harder to follow the whole way out. But as a compensation it is paving way through a colourful and bright terrain where the fearless can enjoy the landscape.
The red threads domains are still the dark labyrinths from which with its help King Thesesus managed to escape the Minotaurus. Though it saved his life, he still stumbled in the darkness.
By combining objects and different materials, Ida Koitila creates new creative contexts. Entities where materials and concepts borrow from each other in order to create a multilayered narrative which oscillates between the ordinary and the exceptional. Between the private and the public, the small and the large.
Ida Koitila is born i Borås and graduated from the Finnish Academy of Fine Arts in Helsinki 2011. Currently she lives and works in Berlin.
2012 she recived Borås City culture award and Borås Tidnings culture award.
The exhibition has been supported by


Ida Koitila: Silent Speakers